INDUSTRIAL CHILLER COATINGS
COOLING TOWER REFURBISHMENTS • FIBERGLASS & STEEL TANKS • WATER FOUNTAIN RESTORATIONS
If you're searching for chiller coatings near me; All Kote Lining, Inc can help! We proudly install the durable Belzona 1321 coating on chiller tube sheets and chiller end bells.  Our coating services help extend the  life of your chillers and improve efficiency in your system.   We have the tools, training, and dedication to quality you need for your commercial or industrial property in Phoenix, Mesa, Chandler, Scottsdale, Glendale, Gilbert, Tempe, or anywhere in the Phoenix Valley.  Receive a free chiller coating quote today by giving us a call at 480-966-4446.
Chiller Tube Sheet Coatings
All Kote utilizes Belzona 1321 epoxy coatings to protect your tube sheets against corrosion. If tube sheets are not coated it will lead to faster deterioration of your chiller and costly repairs.
Chiller End Bell Coatings
End bell coatings from All Kote helps keep your chiller equipment last longer and avoid expensive repairs. Prevent corrosion by scheduling our coating services today!
What is an Industrial Chiller?

Industrial Chillers are large refrigeration systems that dehumidifies air or cools a process fluid in commercial and industrial facilities. A/C Chiller systems are designed to cool large industrial or commercial building and facilities who's are conditioning systems need more power to cool the facility efficiently. Chillers typically use an absorption cycle or vapor compression to provide the cooling effect. There are a variety of application for chilled water, such as process uses and space cooling. Industrial and Commercial chillers are built to perform at max efficiency. Chiller maintenance needs to be done on a regular basis to keep your chiller performing at optimal efficiency level.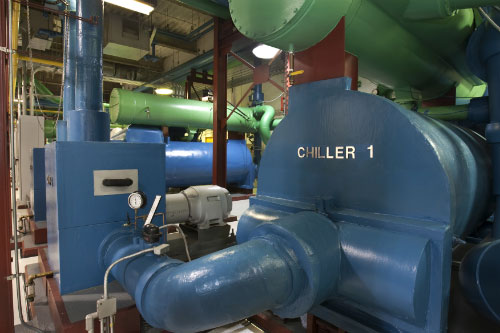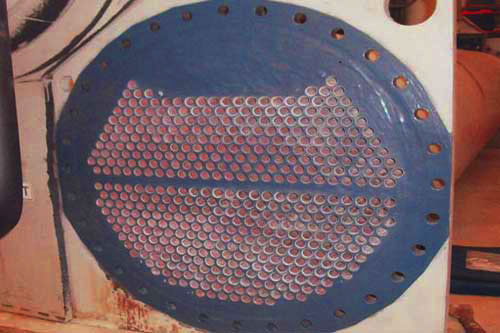 Industrial Chillers are extremely complex and large pieces of equipment.  Due to their complexity they should only be worked on, maintained and serviced by dedicated experts and technicians.  All Kote Lining, Inc is your Phoenix experts with the experience and knowledge to safely maintain, service, or repair your commercial chiller in Arizona.
Complete Satisfaction & Responsive Service – All Kote Lining works hard to make sure all your concerns are addressed, your chiller repair is done right the first time and your downtime is minimized.  We can handle all your industrial and commercial chiller and refrigeration needs.
All Kote Lining's Chiller Repair Technicians have experience in repairing and servicing all types of brand of chiller equipment.   We can maintain, service, and repair Trane chillers, Carrier chillers, Edwards Engineering Chillers, ArcticChill Chillers, York chillers, Koolant Koolers, Temptek Inc chillers, Berg Chilling Systems, Dunham-Bush Chillers, Chiller Solutions, and Budzar Industries.
Types of Industrial Chillers
Industrial chillers are rated by the tons of cooling they can provide.  They are rated between 1 ton to 1,000 tons of cooling ability.  The size of industrial chiller needed for a property will depend on the region, application, and size of the building.  There are three types of industrial chillers: water, air, and evaporative chillers.   Beyond that there are 4 technology types that facilitate the chiller's operation: absorption, screw driven, reciprocating, and centrifugal chillers.  The last three of those types of chillers are mechanical type chillers while an absorption chiller is powered by a heat source and has no moving parts.
Schedule Chiller Coating Service in Phoenix
Call to schedule your chiller coating service simply by giving us a call or using our contact form.  We will schedule service to minimize disruption to your operations and provide quick professional coatings.  We provide our chiller coating services anywhere in the Phoenix Valley and surrounding cities such as Mesa, Chandler, Scottsdale, Glendale, Gilbert, and more!